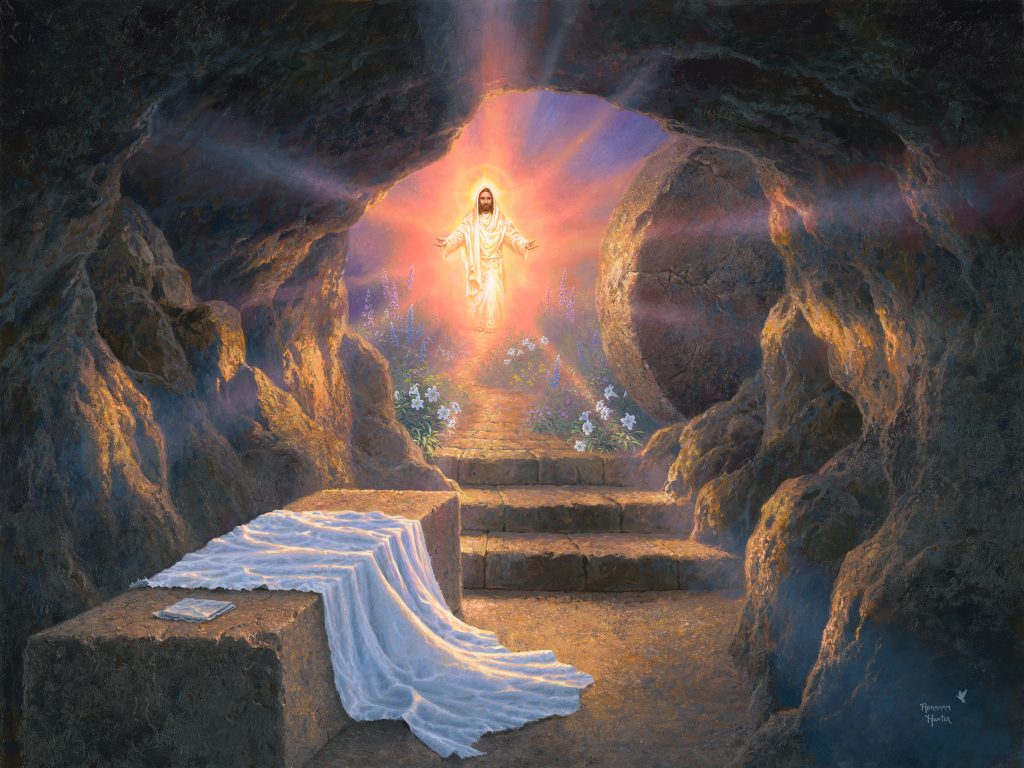 From the Artist:
When I set about to paint this piece, I kept asking myself what it would be like to be in the tomb that morning? To feel the cold hard stone, the foreboding of deaths sting, and the deep darkness that surrounds you in the cave. It would be more than enough to engulf you with the despair and grief that Christ's disciples felt after His death and burial. Life without Him is just too dark, unforgiving, empty, and difficult to bear.
In this painting, I didn't want to only show the light and power of Jesus resurrection… I wanted you to participate in His death and victory over death. When I look into this painting, I feel like Jesus is calling me out of the darkness of death in the tomb, and into His glorious light! Through His power, I can go step forth from the void and join Him in the abundance and life that we find as we draw nearer to His light!
In John 11:25, Jesus told Martha these words to comfort her after the loss of her brother Lazarus. He said, "I AM the resurrection and the life; he that believeth in me, though he were dead, yet shall he live."
I hope this painting inspires you to believe in Him, and live the life that He is giving to you.
~Abraham Hunter
18x24     SN    295     $895 Framed  or    $695 Unframed
18x24     AP     25    $1395 Framed  or   $1195 Unframed
25.5x34   SN    195    $1395 Framed  or   $1075 Unframed
25.5x34   AP     25    $1995 Framed  or   $1675 Unframed
30x40     SN     95    $1795 Framed  or   $1345 Unframed
30x40     AP     15    $2795 Framed  or   $2345 Unframed
36×48     SN     50    $2795 Framed  or   $2245 Unframed