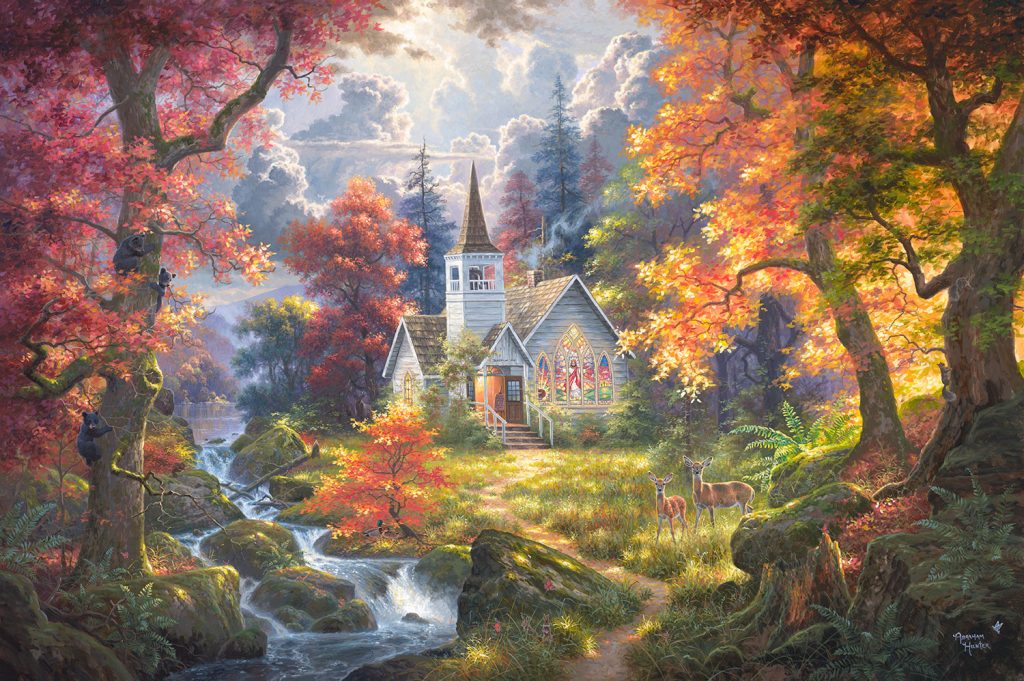 From the Artist:
When I was painting this piece, it seemed to flow together like someone was guiding my hand. When a painting feels like a magical puzzle that puts itself together, I know that it's meant for someone special; someone that needs a smile and a little word of encouragement. Chapel of Hope reminds us of Heaven and the hope for good things that God gives to His children.
There are several key details of the painting.  First, if you look closely at the door of the church, you'll see a scripture list that is there for you to be uplifted. Second, in the stained glass, Jesus is throwing his arms open, waiting for you to run to him. And third, on the doorway of the church is the theme for the image. "For I know the plans I have for you," declares the Lord, "plans to prosper you and not to harm you, plans to give you hope and a future."
Please join me in leaving all other thoughts aside and walk into this paradise to the Chapel Of Hope. I pray this blesses you by lifting and filling you up with the hope and joy that you are loved by our Heavenly Father.
~Abraham Hunter
18×27   S/N   195     $895 Framed  or   $695 Unframed
18×27   A/P    25    $1395 Framed  or  $1195 Unframed
24×36   S/N    95    $1395 Framed  or  $1075 Unframed
24×36   A/P    15    $1995 Framed  or  $1675 Unframed
28×42   P/E     5    $4995 Framed  or  $4545 Unframed