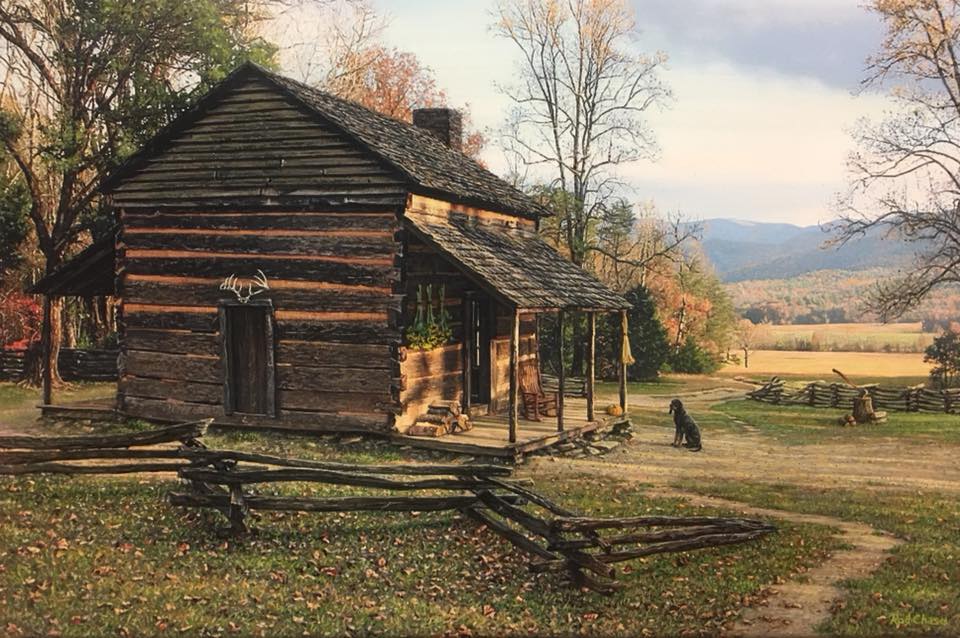 My wife and I love the Smoky Mountains in autumn. After a day or two of sightseeing in Gatlinburg, we hit the hiking trails to escape the crowds and to take in the beauty of God's creation. Following a hike, a peaceful drive through the mountains is our idea of a good time.
A favorite place to visit is Cades Cove. In fact, it's the single most popular destination in the Smoky Mountains. Located near the beginning of the Cades Cove Loop Road, the John Oliver Cabin was built in the early 1820's by John and Lucretia Oliver, the first permanent settlers of Cades Cove. A veteran of the War of 1812, Oliver arrived in the cove sometime prior to 1820 over an old Indian trail. The Olivers remained in the cove alone their first winter there and nearly starved to death. They survived on the dried pumpkin that was given to them by friendly Cherokees in the vicinity.
I wanted to paint the cabin as it might have appeared when the Olivers made it their home. Antlers over the door, sunflowers drying under the porch, and a faithful hound dog waiting patiently for its master to step outside are just a few of my own inventions.
12x18  SN   195    $400 Framed   or    $250 Unframed
12x18  AP    25    $500 Framed   or    $350 Unframed