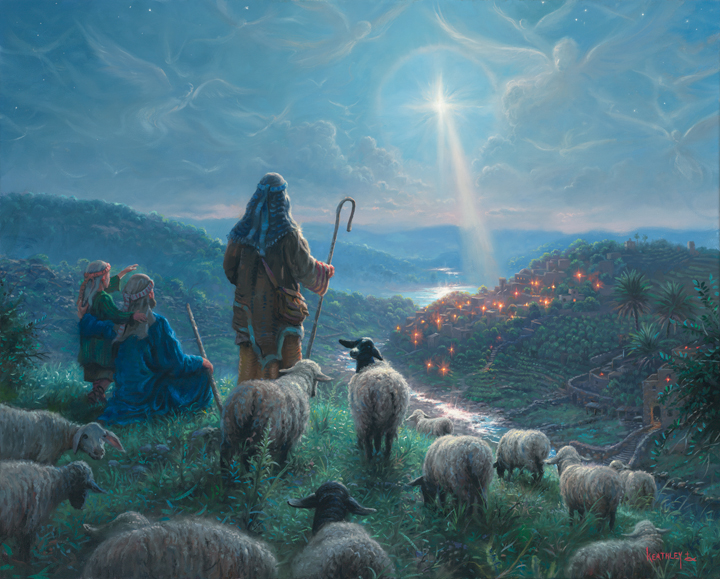 20x24   SN   195      $895 Framed   or    $695 Unframed
20x24   AP    25     $1395 Framed   or   $1195 Unframed
24x30   SN    95     $1195 Framed   or    $965 Unframed
24x30   AP    15     $1895 Framed   or   $1665 Unframed
30x40   SN    50     $1795 Framed   or   $1345 Unframed
30x40   AP     5     $2795 Framed   or   $2345 Unframed
In a time when the world seems to be going crazy, the simple declaration, "Peace on Earth and good will toward men," means more to me than it ever has. These shepherds were not men of renown or noteworthy in their town, but they were important. These were the men that kept the sheep for the ceremony each year when a lamb was brought in for its week-long inspection before the annual sacrifice on Passover. People would gather in the streets to celebrate the lamb which would be slain for the sins of the people for one more year. The hills around the town of Bethlehem are where these sheep were raised, and these shepherds were their keepers for the important festival and sacrifice. On this dark night, angels appeared and declared, "A savior is born to you this day," and shouts of, "Glory to God in the highest!" came for the host of angels. I wanted to depict something more spiritual than the usual human with wings version of angels that we usually see so I created these spiritual creatures zooming around the heavens. They are bringing the announcement of the LAMB who would take away the sins of the world and prophesying his ultimate purpose for humanity, Peace on Earth. I can't wait for that day!