JR Mooney Gallery Event 2010
Mark Keathley attends 2010 Gallery Event
JR Mooney Gallery
Boerne, TX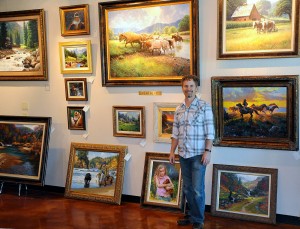 April 24, 2010 BOERNE, TEXAS:
At a recent showing with JR Mooney Galleries, Mark Keathley is shown  standing before a dozen of his recent paintings.  Mark took a moment to pose in between a busy four
hours of greeting fans.   Mark reported that he had the pleasure of meeting many collectors who had purchased his original paintings as far back as 1990.   "It is fun to see their pleasure at buying a painting for $3000 and now seeing them at this show for three or four times that amount now," Mark stated.
Bob Mooney, owner of JR Mooney galleries of San Antonio and Boerne TX at one time bought every painting that Mark painted from 1991 – 1997.  Mark has displayed with the gallery since 1989 selling over 1,000 original paintings through their galleries over the last 20 years.   The art show on Mark's birthday this past April was a great success and we all look forward to many more years together bringing the best art work possible to fine art collectors.    Both original paintings and giclee prints can be purchased at JR Mooney Galleries of fine art