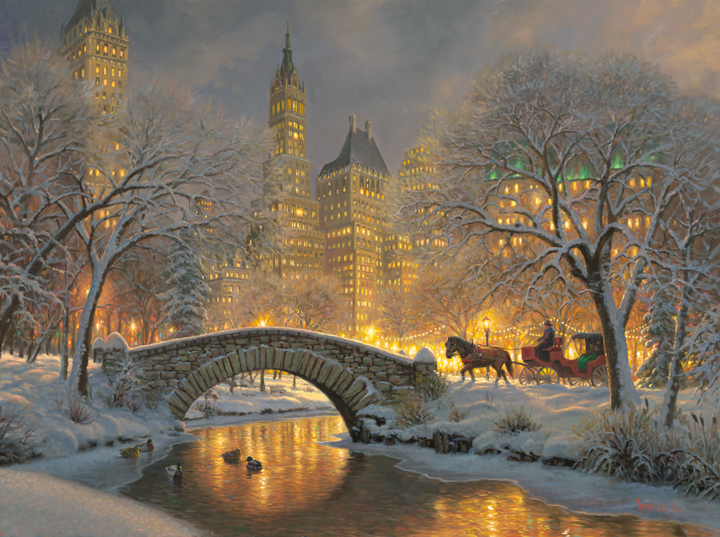 In the middle of chaos and pressure, a person can find peace and calm by entering into their happy place.  Often in the middle of all the stress of living in this world, I close my eyes and picture myself sitting on a rock in the forest where the light is streaming down through the leaves and glistening off a smooth section of a creek where there is just a small gurgle of water trickling by. I picture myself sitting with someone that loves me whom I love, and all seem to calm down. I often say a quick prayer of thanks for my "Daddy" being in control, knowing what is coming, and being big enough to handle it and take care of me. Calmness settles in, and I'm happy and peaceful again. I can do this anywhere – on a plane, at my kitchen window, or sitting in my studio.   It brings peace in the middle of a storm of chaos. I imagine Frederick Olmsted had this in mind when he and the New York city planners set aside 788 acres of land in the 1850's for what would become a magical escape from the noise and pace of a growing city. Among the many paths and trails through the park are more than a dozen different bridges that display architectural perfection on a grand scale, and Gapstow Bridge is one of my favorites.  Nestled in the southwest corner near the pond in the corner of the park, the Plaza Hotel rises thru the trees on the right, as well as some of the other grand buildings of the turn of the century.  These were the days when gargoyles and Gothic accents adorned elaborate buildings that were beautiful works of art.  I chose to paint the city from a simpler time – before the rectangular glass and steel skyscrapers began to change the city to a more "modern" look. Several grand carriages will give you a ride through the park. We actually visited the city for my son's 16th birthday in February right after a snowstorm blanketed the park with even more quietness. Enjoy the calm in "Carriage Park" and make it your place of peace in the middle of the chaos. 
 ~ Mark Keathley
 18x24 

   

S/N

  

(95):

   

$895 Framed 

   

or

    

$695 Canvas
 18x24 

   

A/P 

 

(15):

  

$1395 Framed 

   

or

   

$1195 Canvas
 25.5x34  S/N 

 

(50): 

 

$1395 Framed 

   

or

   

$1075 Canvas
 25.5x34  A/P 

  

(5): 

 

$1995 Framed

    

or   $1675 Canvas
 30x40 

   

A/P 

 

(25): 

 

$2795 Framed  

  

or   $2345 Canvas


Above prices represent Publisher's suggested issue release price.  Each Gallery is independently owned and operated and
prices may vary.  Also, Limited edition art may sell for higher prices on the secondary market after they are sold out    
Note: A/P edition is embellished by the artist.  P/P edition was discontinued prior to this release.