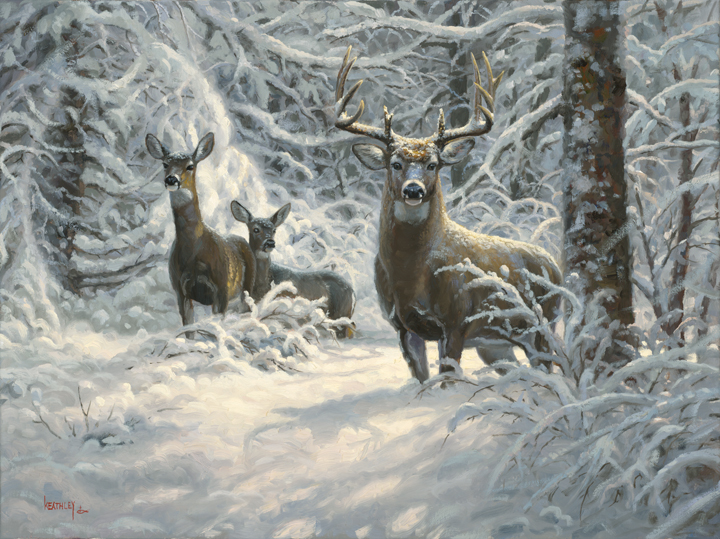 When I was a kid, I always saw deer heads hanging on walls – way up high. I guess they took on a larger than life appearance in my five-year-old eyes, and I never lost it. I'm always surprised now when I see the size of most deer in the woods. When I happened on this scene, I was struck by the beauty of these two does in the midst of these snow-laden trees, but the scene was missing something – something big! I sketched in what I envisioned as the perfect buck – viewed from that lower angle where I had seen all the "big ones" as a kid so this buck would seem larger than life, too. "Winter Lace" is dreamy on purpose. Not only is the landscape a winter wonderland of snow-covered twigs and branches, but that magnificent buck, "Wow!" I want it to be your dream and vision of one of the most beautiful creatures on the planet.
~ Mark Keathley
12x16 S/N

 

(95): 

 

$550 Framed

   

or

   

$400 Canvas
12x16 A/P (15): 

 

$895 Framed 

  

or

   

$745 Canvas
18x24 S/N

 

(95):

  

$895 Framed 

  

or

   

$695 Canvas
18x24 A/P (15):

 

$1395 Framed 

  

or

  

$1195 Canvas

Above prices represent Publisher suggested issue release price.  Each Gallery is independently owned and operated and prices may vary
Also, Limited edition art may sell for higher prices on the secondary market after they are sold out      
Note: A/P edition is embellished by the artist.