Western Adventure Series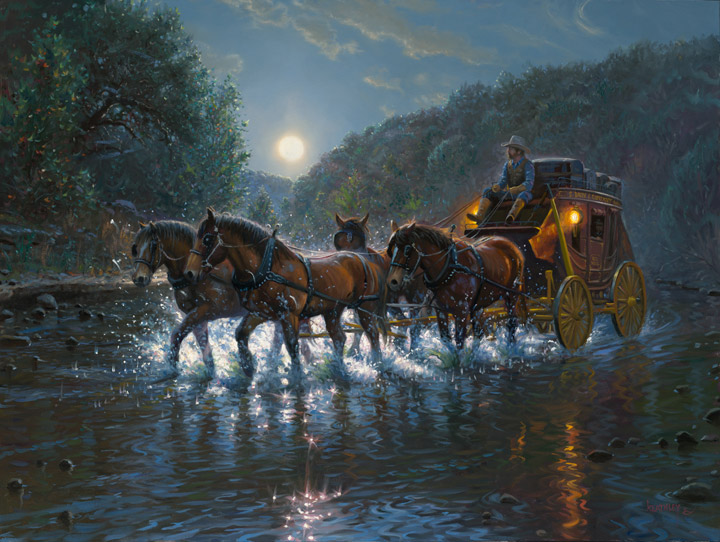 The expanding frontier across Texas moved slowly west as new forts were built to protect settlers. This area was notorious for bandits, Indians, and rough terrain. The stagecoach was still a favorite for traveling west and delivering mail to the farther outposts and settlements of even more western states. The young nation called Texas was a huge area and people and their mail needed to cross the vast land. The history of the stagecoach era is a glorious tale of rock houses built as stage stops and the handsome and durable handmade stagecoaches carried a new type of independent person. There were a lot of different stage companies, and I chose to paint one that operated out of Austin and traveled through the hill country region. They often traveled on river beds because of the flat limestone "pavement" they provided. At this moment, there is peace and calm as the light of the moon and the lanterns highlight the clomping splash of the horses' hooves as they gently pull the stage through the Guadalupe River canyon on what we are calling the Texas Highway.
~ Mark Keathley
18x24 

  

S/N

   

(95):

    

$895 Framed 

    

or

    

$695 Canvas
18x24 

  

A/P 

  

(15):

   

$1395 Framed 

    

or

   

$1195 Canvas
18x24 

  

P/P

   

(75): 

  

$1195 Framed 

    

or

    

$995 Canvas


30x40 

  

A/P 

  

(10): 

  

$2795 Framed 

    

or   $2345 Canvas


36x48   A/P

    

(5): 

  

$3695 Framed 

    

or   $3145 Canvas •SOLD OUT•
The above prices represent Publisher's suggested issue release price.  Each Gallery is independently owned and operated and prices may vary
Also, Limited edition art may sell for higher prices on the secondary market after they are sold out
Note: A/P edition is embellished by the artist.  P/P edition is limited to one per dealer and one half the wholesale price is donated to the publisher's charity.