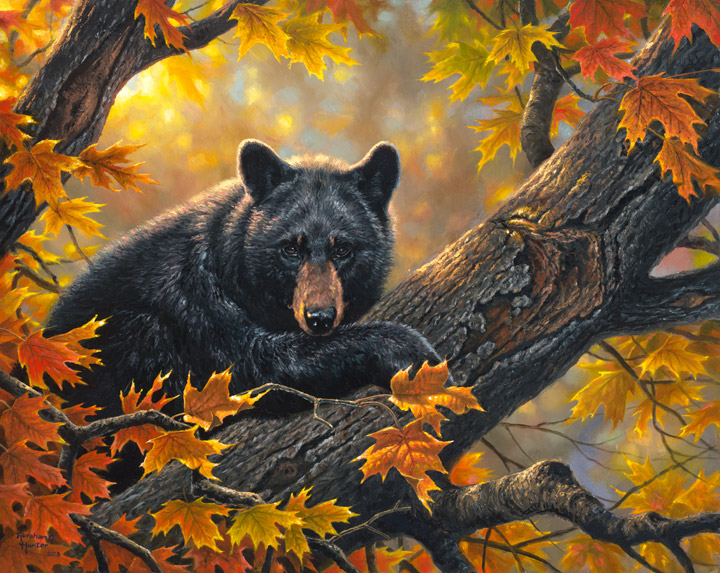 Last fall, I was so blessed to have an amazingly close encounter with a mamma black bear and her little cub. They just sat there for what seemed forever just hanging out, sleeping, eating, and posing perfectly for my camera. As soon as I got home, I painted this piece. I love the emotion that black bears have in their eyes. I tried to capture that in this painting. I was so excited as the painting just smoothly unfolded, and the color and detail combined just how I wanted. Every time I see this painting, it reminds me of those beautiful bears that day in Cades Cove in the Smoky Mountains. I'm so very happy with this painting and so excited to get to share it with you! I hope you enjoy it!  
~ Abraham Hunter
 
16x20 S/N 

  

(95): 

  

$695 Framed 

 

or

   

$545 Canvas
16x20 A/P

   

(15):

  

$1195 Framed 

 

or

  

$1045 Canvas
16x20 P/P

   

(15):

   

$895 Framed  or

   

$745 Canvas
Above prices represent Publisher suggested issue release price.  Each Gallery is independently owned and operated, and prices may vary
Also, Limited edition art may sell for higher prices on the secondary market after they are sold out      
Note: A/P edition is embellished by the artist.  P/P edition is limited to one per dealer and one half the wholesale price is donated to the publisher's charity.