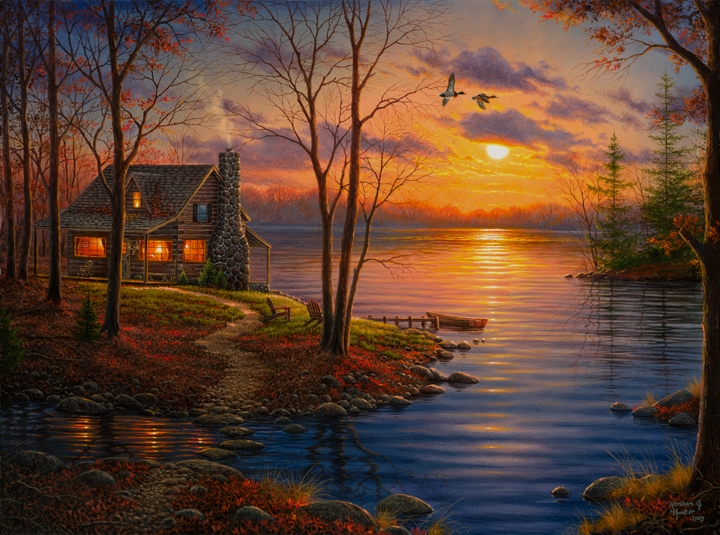 The ideal lakeside retreat is in the mind and imagination of all of us We all wish for that perfect sunset at the end of a long day of fun and adventure in the great outdoors. As an artist, I have one of the best imaginations! It's constantly spinning new ideas and visions of that distant dream house or cabin, a place of peace and joy. It's a place to share special moments with your loved one or just adventure off and enjoy time by yourself. This type of place is where some of the best memories of a lifetime can be made, and I thank God every day that I have the amazing job of sharing these places of my imagination with you! It's late fall in this painting. There's a chill in the air, but the sun still warms your face. You can almost hear the whistle of wings as a mallard pair come in to stay the night. Walk across the creek, have a seat, and absorb the last moments of daylight. Soon, it will be time to retreat back into the warmth of the cabin, relax by the fireplace, and then doze off to sleep. Rest well because it will be another fun day tomorrow!
~ Abraham Hunter
18x24 

  

S/N

   

(195):

   

$895 Framed 

  

or

   $

695 Canvas
18x24 

  

A/P 

   

(15):

  

$1395 Framed 

  

or

  

$1195 Canvas
18x24 

  P

/P 

   

(50):

  

$1195 Framed 

  

or

   

$995 Canvas
Above prices represent Publisher suggested issue release price.  Each Gallery is independently owned and operated and prices may vary
.  Also, Limited edition art may sell for higher prices on the secondary market after they are sold out      
Note: A/P edition is embellished by the artist.  Premier edition is embellished by the artist and has a special sketch on the verso side of the canvas.  There will not be a number on the canvas, instead, the artist will note that it is one of only five on the reverse of the canvas.  Additionally, the Premier edition has a brass plate on the stretcher bar designating it as a Premier edition.