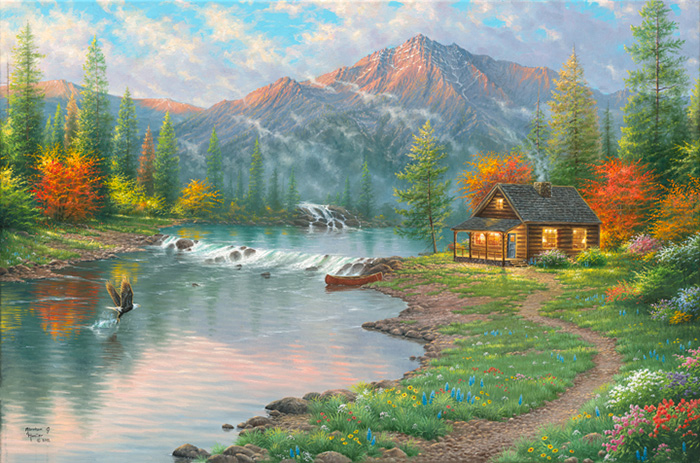 I'm constantly trying to imagine what the ideal mountain retreat would look like. This scene definitely combines all of my favorite elements of the perfect place to just relax.
You could just imagine the soothing sound of the crystal clear water rushing down from the majestic mountain peaks above, still shrouded in early morning mist. Sit and listen to the birds sing, and watch the sunrise or take a canoe ride down the river to join the bald eagle on a little fishing trip. Come and enjoy the amazing beauty of God's Creation, and forget about everything else. 
~ Abraham Hunter
18x27 

  

S/N

  

(95):

   

$895 Framed 

 

or

    

$695 Canvas
18x27 

  

A/P 

 

(15):

  

$1395 Framed

  

or

   

$1195 Canvas
18x27 

  P

/P 

 

(75):

  

$1195 Framed 

 

or

    

$995 Canvas
24x36 

  

A/P 

 

(15): 

 

$1995 Framed

  

or   $1675 Canvas
Above prices represent Publisher suggested issue release price.  Each Gallery is independently owned and operated and
prices may vary.  Also, Limited edition art may sell for higher prices on the secondary market after they are sold out      
Note: A/P edition is embellished by the artist.  Premier edition is embellished by the artist and has a special sketch on the verso side of the canvas.  There will not be a number on the canvas, instead, the artist will note that it is one of only ten on the reverse of the canvas.  Additionally, the Premier edition has a brass plate on the stretcher bar designating it as a Premier edition.