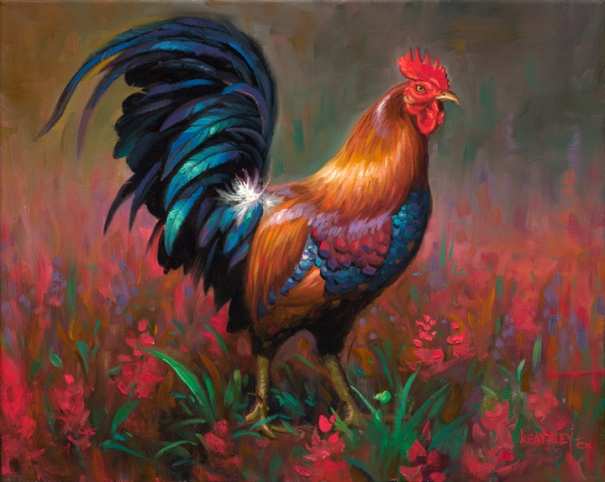 Bonnie's mother's maiden name is Hahn which means "rooster" in some European language, and so I created this grand portrait of my favorite rooster from our farm (from a few years back). For my mother-in-law, I wanted to capture the brilliant iridescence in his stately pose in a field of flowers that would essentially brighten up her kitchen and make a happy place when she walked by. She tells me it worked. She stops and smiles every time.
~ Mark Keathley
16x20 S/N 

 

(95): 

  

$695 Framed 

  

or

  

$545 Canvas
Above prices represent Publisher suggested issue release price.  Each Gallery is independently owned and operated and prices may vary
Also, Limited edition art may sell for higher prices on the secondary market after they are sold out      
Note: A/P edition is embellished by the artist.  P/P edition is limited to one per dealer and one half the wholesale price is donated to the publisher's charity.  This is a very rare release since it is being released in only one size and one edition.  There are no A/Ps or P/Ps in this release.