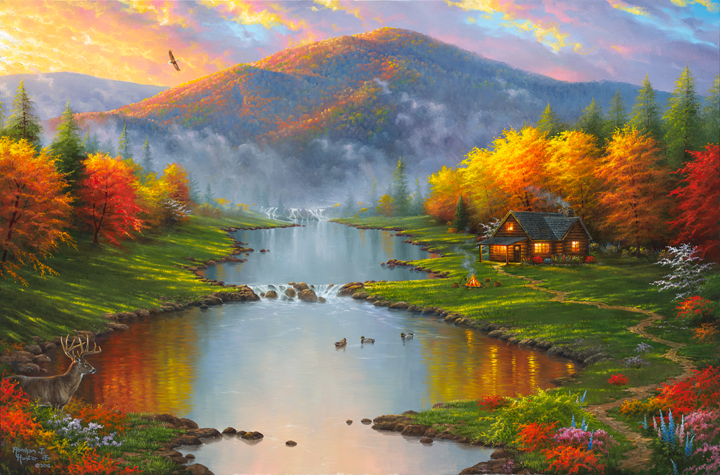 Some of my best memories of the Smoky Mountains came after an afternoon storm had just passed and the rich sunlight poured through the breaking clouds. In this scene, the cabin residents have built a large campfire to heat up the coffee pot, and, although they have stepped inside a minute, they will soon return to enjoy its warmth. The wildlife animals are ready to resume their feeding schedule now that the storm has passed. Their presence around the cabin is very welcome and will make the evening even more special. Why don't you let yourself walk on in and sit a while…enjoy the fire on this crisp autumn evening and take a little break from your work and worries. Kick back your feet on the front porch, pour yourself a hot cup of coffee, and enjoy an Evening Retreat.
~ Abraham Hunter
18x27 

  

S/N

   

(95):

   

$895 Framed 

 

or

    

$695 Canvas
18x27 

  

A/P 

  

(15):

  

$1395 Framed 

 

or 

  

$1195 Canvas
24x36 

  P/P

 

  

(50):

  

$1595 Framed

  

or

   

$1275 Canvas
24x36 

  

S/N 

  

(95):

  

$1395 Framed

  

or

   

$1075 Canvas
24x36 

  

A/P 

  

(15): 

 

$1995 Framed

  

or   $1675 Canvas
Above prices represent Publisher suggested issue release price.  Each Gallery is independently owned and operated and prices may vary
Also, Limited edition art may sell for higher prices on the secondary market after they are sold out      
Note: A/P edition is embellished by the artist.  Premier edition is embellished by the artist and has a special sketch on the verso side of the canvas.  There will not be a number on the canvas, instead, the artist will note that it is one of only ten on the reverse of the canvas.  Additionally the Premier edition has a brass plate on the stretcher bar designating it as a Premier edition.