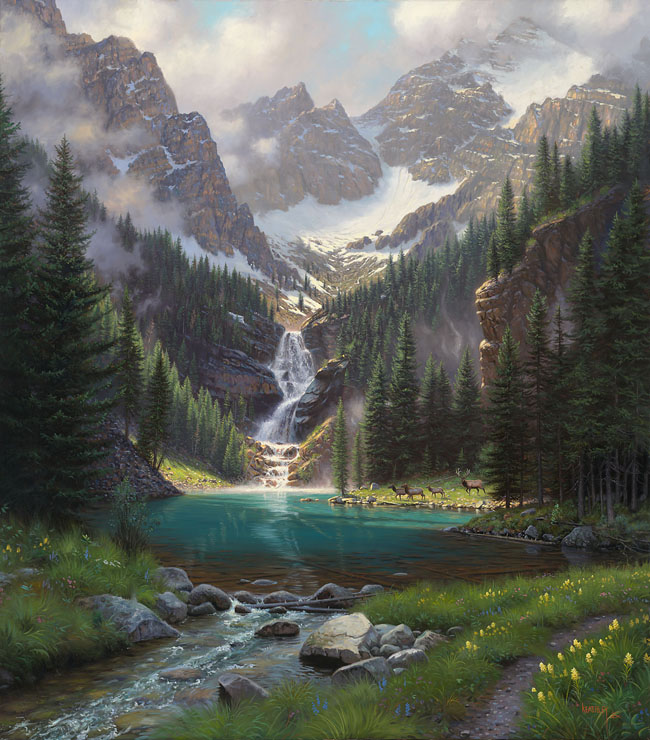 Modern life presents little time to reflect on the deeper things of the heart.  With our busy schedules and flashy visual culture, the temporal and sensual world around us locks our attention in a numbing trance which actually feels like stimulating life, but the fixation on this physical and seen world keeps us from entering into a dimension of life which, if missed, will cause us to really fail to live at all. Let me put it another way. Come away to a place where you are invited to see the unseen, to experience the spiritual, and to happen upon the eternal. It is a place of solitude, quiet,  rest, and reflection where you can discover the true meaning of life: you were meant for something more important than the here and now. Come away to "Lake Solitude" and find your place in the Creator's heart.
~ Mark Keathley
24x20 S/N

  

(75):

   

$895 Framed 

  

or

   

$695 Canvas
24x20 A/P 

 

(10):

  

$1395 Framed 

  

or

  

$1195 Canvas
45x40 P/E  (10):

  

$7140 Framed 

  

or

  

$6480 Canvas
Above prices represent Publisher suggested issue release price.  Each Gallery is independently owned and operated and prices may vary
Also, Limited edition art may sell for higher prices on the secondary market after it is sold out   
Note: A/P edition is embellished by the artist.  Premier edition is embellished by the artist and has a special sketch on the verso side of the canvas.  There will not be a number on the canvas, instead, the artist will note that it is one of only ten on the verso side of the canvas.  Additionally, the Premier edition has a brass plate on the stretcher bar designating it as a Premier edition.