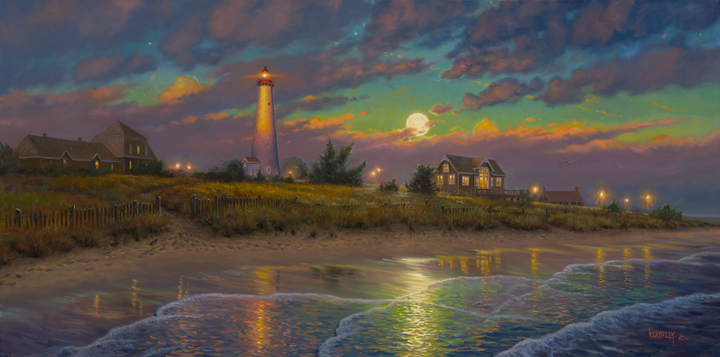 There are moments in life when I know the decision before I could change everything. I call those windows of opportunity, a fleeting moment when the quiet thought to forgive or to bless someone is there in my mind. The choice I have before me is about listening and following the thought or dismissing it as if it were just another thought. Our minds are not our own, however, and these thoughts come from opposing forces. We should pay attention to them and choose the side of goodness.
I have often thought of this fleeting moment in time when I was out in nature fishing or hiking, and the phenomenon of a moon rise in the east while the sun is setting in the west unfolded before me. It is a moment of wonder for me when the brilliant colors of the evening sun are peaking at the moment the moon is at its largest in the dimming sky. In this painting, I've tried to capture this moment to remind you of those fleeting moments when we often dismiss the thoughts to give and to share. May His light and glory be evident on your face and in your life in such a way that people watching you have the same response as they would to a "Twilight Moon."
~ Mark Keathley
12x24 S/N

  

(95): 

  

$695 Framed  or 

   

$545 Canvas
12x24 A/P 

 

(15):

  

$1195 Framed

  

or 

  

$1045 Canvas
18x36 S/N

  

(95): 

 

$1195 Framed 

 

or 

   

$965 Canvas
18x36 A/P 

 

(15):

  

$1725 Framed  or   $1565 Canvas
18x36 P/P 

 

(75):

  

$1395 Framed  or   $1165 Canvas
24x48 A/P

  

(25): 

 

$2795 Framed 

 

or   $2345 Canvas 
Above prices represent Publisher suggested issue release price.  Each Gallery is independently owned and operated and prices may vary
Also, Limited edition art may sell for higher prices on the secondary market after they are sold out      
Note: A/P edition is embellished by the artist.  P/P edition is limited to one per dealer and one half the wholesale price is donated to the publisher's charity.