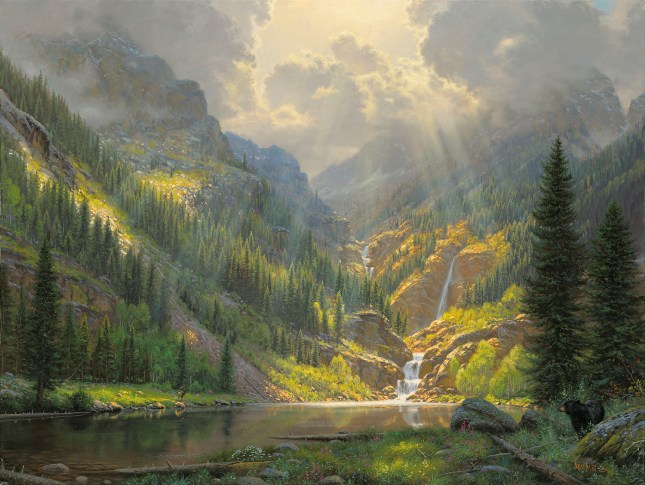 What a summer I have had traveling to some great places and gathering more beautiful photos to paint from. This particular painting is what I consider my best attempt at capturing the grandeur of the mountains. It is to "get it all in" when you are taking photos. Luckily, I get to combine photographs from different vantage points. Then I take the best of each one and crop and piece together until I have a photograph to use as a "model" for my painting. With this painting, it just clicked. I hope it inspires you to slow down and sit a spell…. just be still.
— Mark Keathley
18x24 

  

S/N

    

(30): 

  

$895 Framed 

  

or

   

$695 Canvas
18x24 

  

A/P

    

(20):

  

$1395 Framed 

  

or

  

$1195 Canvas
18x24 

  

P/P

    

(26):  $1195 Framed 

  

or

   

$995 Canvas
30x40   S/N    (15):  $1795 Framed   or  $1345 Canvas


30x40   A/P    (15):  $2795 Framed   or  $2345 Canvas
Note: A/P edition is embellished by the artist. P/P edition is limited to one per dealer and one half the wholesale price is donated to the publisher's charity.